Fiverr (FVRR) has delivered very strong numbers through 2020, and the big question among investors is how much of that is the transitory impact of COVID versus sustainable drivers over the long term. The most recent earnings report, combined with strong guidance, validates the bullish thesis.
Microsoft (MSFT) is reportedly entering the industry with a competitive product from LinkedIn, and this is an important risk factor to watch. However, it is not enough of a reason to sell FVRR at this point.
The Update
My thesis for FVRR is that Wall Street is underestimating the company by considering only a "COVID-19 play". The numbers for the fourth quarter of 2020 are confirming this idea.
Revenue reached $55.9M, an increase of 89% year over year.
Revenue guidance for 2021 is $277M – $284M, while the analysts following the stock were expecting $259.24M.
Active reached 3.4 million, an increase of 45% year over year.
The company keeps losing money, but margins are improving and management is expecting more improvements next year.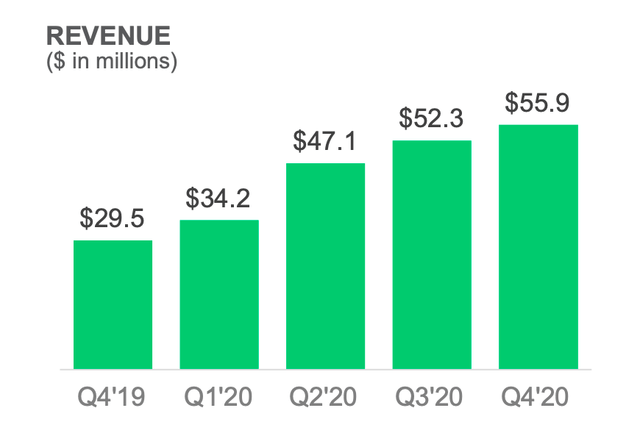 Growth initiatives are evolving well, FVRR is broadening its catalog of gigs, going upscale in terms of pricing, and expanding internationally.
On the risk side, it is worth noting that Microsoft is reportedly working on a new LinkedIn service called Marketplaces to enter this segment. This is not a risk factor to overlook, but it is far too early to make any assessment.
We still have no confirmation that LinkedIn Marketplaces is coming and, even if it does come, we need to see how the competitive dynamic evolves. Investors generally underestimate a smaller and focused player such as FVRR when assessing competition versus a more diversified giant like MSFT.
This risk factor needs to be acknowledged and closely monitored, but I wouldn't stay away from Fiverr simply because Microsoft could be entering the market in the near term.
The Timing
The price action in FVRR is very strong, the stock is in a beautiful uptrend, a bit extended in the short term, but not too much.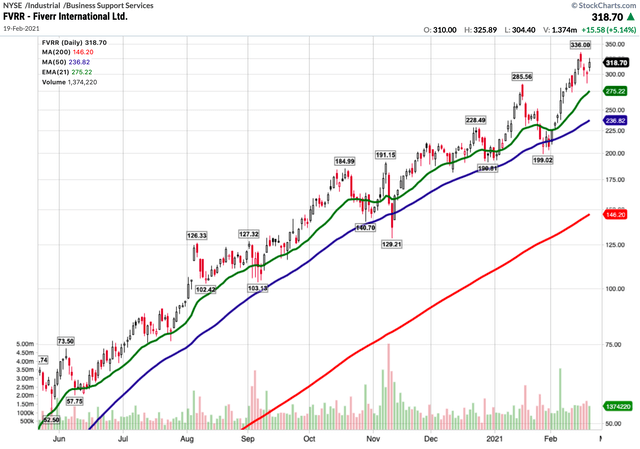 The Big Picture
FVRR is executing very well and capitalizing on its opportunities. Valuation is aggressive, but the company has a market cap of $10.5 billion, so it has the potential to continue growing strongly from a relatively small size. Competitive risk should be closely monitored in the intermediate term.
Disclosure: I am/we are long FVRR.
I wrote this article myself, and it expresses my own opinions. I am not receiving compensation for it. I have no business relationship with any company whose stock is mentioned in this article.