The Airbnb (ABNB) IPO in October of last year was too hot for my taste. There was too much hype right out of the gate, especially for a company that was going to have its first earnings report as a public business in a tremendously challenging environment. Now the stock is more expensive, but the investment thesis looks clearer.
Fast forward five months from the IPO, and management has shown financial discipline combined with long-term vision in the recession. Additionally, successful vaccination on a global scale is setting the stage for a spectacular recovery in travel demand. The business model is quite attractive from a long-term perspective and the chart seems to be setting up well.
Investment Thesis Summary
Airbnb is a very particular stock, it can be considered both a long-term growth story and a major beneficiary from the reopening and booming travel demand. Management has done a solid job at keeping expenses under control during the pandemic, and the overall impact on revenue was lighter than I would have expected.
A major positive is that most of its customers come from direct channels and it has a leading brand presence in the sector. The network effect provides a sustainable source of competitive advantage, and the business model should allow for attractive profitability in the future, although this still remains to be seen.
The biggest risk is valuation. Airbnb is not too expensive when considering the company's growth potential, but the market is already assigning it a market capitalization of $118 billion. The original IPO target was in the range of $45-$50 in October, while the stock is currently trading at $206.7
It is difficult to assume valuation risk in this market environment, but I don't want to anchor my thinking to prior price levels, because this usually leads to missing many of the best opportunities in the market.
Besides, the company reported a very solid quarter considering the circumstances, and there is a big chance that travel demand is going to widely surpass expectations in the months to come.
In terms of price performance, Airbnb is exhibiting impressive relative strength, so the company's exposure to the reopening seems to be more important than the fact that it is priced like a growth stock judging by the price action recently.
The Business
Airbnb has many of the characteristics that I like in a business model. It is asset-light and it was approaching profitability before the pandemic, the company also benefits from two key sources of competitive advantage: brand recognition and the network effect.
According to the company, 91% of traffic came through direct or unpaid channels in the first nine months of 2020. This is very important because it shows that customers just go straight to Airbnb when they want to travel.
Airbnb also benefits from the network effect, which means that users on both sides of a transaction attract each other to a leading platform such as Airbnb. The platform has more than 4 million hosts all over the world, and those hosts have welcomed hundreds of millions of guests through Airbnb. Supply creates demand and demand crates more supply across a global scale.
The company was delivering bookings growth in the range of 30-35% in 2019 before the pandemic. Then there was a major decline in the first quarter of 2020, and the numbers bottomed in June of last year.

Source: Airbnb
In comparison to online travel agencies, Airbnb seems to be performing much better, which is crucial from a competitive perspective. In the depth of the pandemic, management forecasted that 2020 revenue could be less than half of what it was in 2019. But total revenue numbers actually declined a much smaller 30% in 2020 compared to 2019.
Revenue in the fourth quarter outperformed expectations too. The company reported $859.26 million in the period, down by 22.6% year over year and beating Wall Street forecasts by $113.89 million.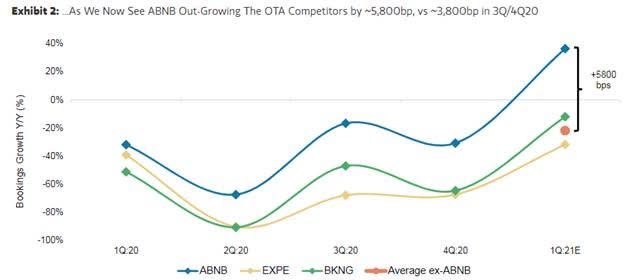 Source: Glenn Solomon
Airbnb had a lot of stock-based compensation due to the IPO during the quarter, but management implemented an ambitious cost-cutting plan and adjusted profit margins increased substantially year over year.

Management did not provide much guidance due to lack of visibility:
For the remainder of the year, it is too early to predict overall recovery trends for the travel industry and their impact on our business. We have been encouraged by our continued resilience and recovery, and are optimistic about the upcoming travel rebound. However, we continue to have limited visibility for growth trends in 2021 given the difficulty in determining the pace of vaccine roll-outs and the related impact on willingness to travel. We are not providing an outlook for the rest of 2021 at this time.
This is actually a good thing in my opinion, we want expectations to be achievable if we are looking for companies that can widely surpass those expectations. A large part of my reflation thesis is that the economic recovery is going to be much stronger than expected. Travel is going to be a major beneficiary from this recovery, as travel is demand is highly linked to discretionary spending, besides, travel is one of the activities that people all over the world have missed the most during the pandemic.
There are also some permanent shifts that could be beneficial to Airbnb. A lot of companies now have the infrastructure for employees to work remotely most of the time. Many people are now able to travel more if they can work from anywhere and they don't need to be physically at the office.
When looking for companies that can benefit from a travel boom, sectors such as airlines, hotels, and cruise companies are direct beneficiaries, but they are also mediocre industries from a long-term perspective. The online travel agencies are more attractive, but the competitive pressure is getting too intense and margins have been declining due to marketing expenses lately.
Airbnb is quite unique in this regard because the company has strong exposure to a recovery in travel and also compelling long term growth prospects. From a fundamental perspective, management seems to be judicious and the company is building solid competitive strengths.
Management said the S-1 report that that total addressable market ("TAM") is estimated to be $3.4 trillion, including $1.8 trillion for short-term stays, $210 billion for long-term stays, and $1.4 trillion for experiences.
These numbers should obviously be taken with a big grain of salt, but I do believe that growing travel demand, as well as expansion to emerging markets and adding more properties and experience to the platform, could be strong growth drivers for Airbnb in the years ahead.The Risks
From a fundamental perspective, valuation is the biggest risk factor. The stock is not too expensive when considering its growth prospects, especially in comparison to other growth stocks in the market. A price to sales ratio around 26 is far from unreasonable for Airbnb if you see it as a strong platform with abundant opportunities in the years ahead.
However, if the market decides to keep repricing growth stocks down, this could have an impact on Airbnb. It's worth noting that the stock has not been affected much by the recent selloff in growth stocks, which can be arguably due to the fact that Airbnb is one of the leading beneficiaries of a recovery in travel demand.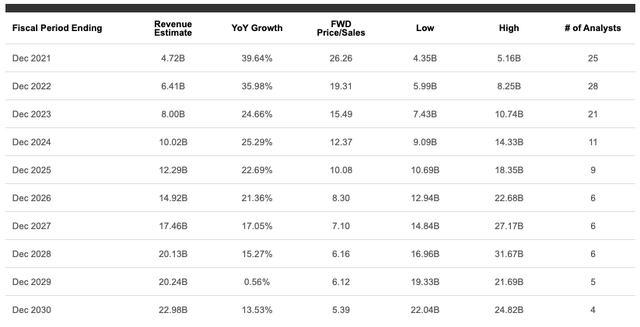 Source: Seeking Alpha
Airbnb also faces regulatory uncertainty, major tourist cities such as Paris require landlords to get particular licenses to operate through Airbnb. In New York and San Francisco, the owners have to prove that they are full-time residents. It is hard to assess how these regulations can evolve in the future, and they could have a material impact on the company.
Competitive pressure is another key consideration since traditional Online Travel Agencies such as Booking (BKNG) are expanding into Airbnb's area. There is also the risk that big tech corporations like Amazon (AMZN) and Google (GOOG) may compete more directly versus Airbnb in the future, but my impression is that the tech juggernauts will remain focused on advertising and search in this market as opposed to going straight versus Airbnb.
The lockup period expired after the most recent earnings report, and chances are that we are going to see some insider selling that can affect sentiment toward the stock.
I personally don't worry much about some insider selling in these kinds of companies. To some degree, this is reasonable and even to be expected. If I am your financial advisor and you have both your income and your net worth tied to a single stock, I am going to strongly advise some diversification, no matter how bullish the company's prospects. Regardless o this, insider selling could potentially affect sentiment toward Airbnb and hence the stock price.
The Price Action
Airbnb has performed much better than other growth stocks during the recent correction. The stock was showing a clear uptrend from the IPO levels, and it reached historical highs at almost $220 per share in mid-February. During the growth stocks correction, the $180 area provided strong support.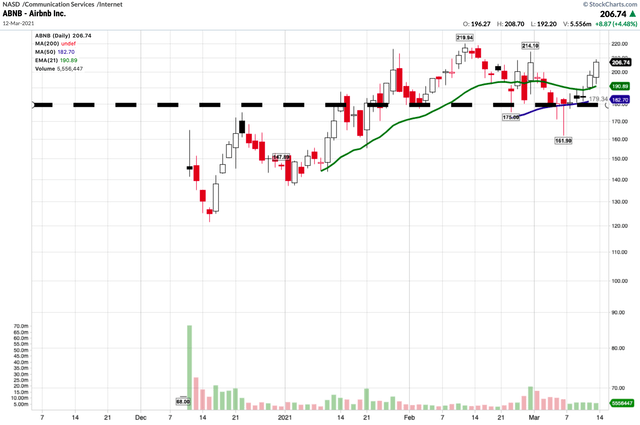 We can think about a stock showing relative strength during a correction as a ball full of air that is being held under the surface of the water in a swimming pool. The market pressure is keeping it down, but the stock itself is performing relatively well considering the circumstances. If market conditions improve, the stock could make a big move higher, such as the ball tends to jump strongly out of the water as soon as you release the pressure.
With other stocks that are down by 30%-40% of their highs, you may have lots of traders who bought at higher prices and are looking to sell when prices recover. Airbnb looks much better from that perspective.
There is no guarantee that the price will keep holding on well if growth stocks continue selling off, but the fact that Airbnb is showing relative strength is a relevant piece of evidence to include in the analysis.
In any case, the $180 area can be considered an important level for risk management purposes, meaning that we can buy the stock and use a stop at 180 to reduce risk if things don't work out well.
Disclosure: I/we have no positions in any stocks mentioned, but may initiate a long position in ABNB over the next 72 hours.
I wrote this article myself, and it expresses my own opinions. I am not receiving compensation for it. I have no business relationship with any company whose stock is mentioned in this article.