I will be closing two positions today: Axon (AXON) and Invitae (NVTA).
In addition to this, I will be buying 3% of the portfolio value in China Internet (KWEB) as an intermediate-term position. The Stop Loss is at $65 and the Buy Below is at $71.
Both Axon and Invitae are good companies, and I am sure that they will be much higher in the years ahead. But I also want to reduce the number of positions in the portfolio and I want to bet on China without reducing cash levels too much.
Long-term subscribers in Nomad Investor may remember that we have traded KWEB well in the past, and I started getting interested in China again in December of 2020, when the problems with Alibaba (BABA) exploded. Here is an article that I wrote at the time explaining my perspective at that time.
I am still not sure that things have improved for China on the regulatory front, but there is a lot of negativity surrounding China stocks right now. At these levels, the risk to reward makes sense to me, because everybody knows about the problems with China and these are well reflected on prices to a good degree.
More than six months later, we have a good level to trade against. If KWEB breaks below $65 with conviction we can just close the position and move on to other ideas with a small loss. If things start to stabilize for China, the upside is substantial in the intermediate-term.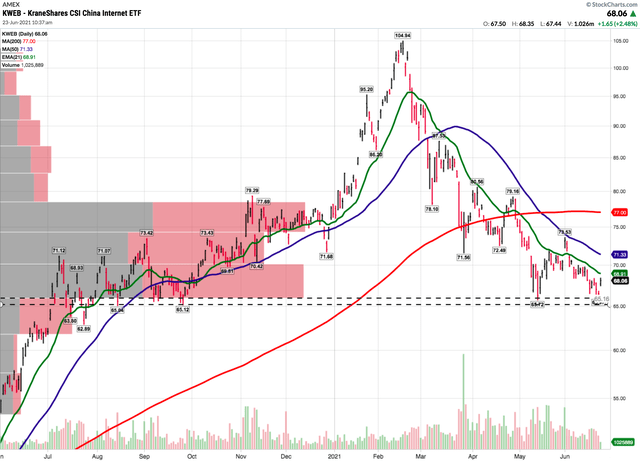 For subscribers in Europe, my understanding based on this webpage is that you can buy KWEB in London, Euronext, and Borsa Italiana. If you can't find this particular China ETF, other China ETFs that have large exposure to big capitalization technology could provide similar exposure.

Best
Andres
Disclosure: I am/we are long AXON, NVTA.
I wrote this article myself, and it expresses my own opinions. I am not receiving compensation for it. I have no business relationship with any company whose stock is mentioned in this article.
Additional disclosure: I will be selling AXON and NVTA and buying KWEB today.