Invitae (NVTA) reported very strong revenue growth, and management expects to sustain vigorous growth rates in the years ahead. The quarter was excellent in terms of both performance and guidance.
The main risk for investors is that Invitae keeps burning cash at full speed and plans to keep doing so for the foreseeable future. Invitae is all about growth above everything else, you can take it or leave it, but management is being explicit about the strategy.
The Update
Invitae announced $100.43M in revenue during the quarter, exceeding expectations by $1.36M. Even better, management reiterated the goal of sustaining 50% – 60% annual growth over the years ahead.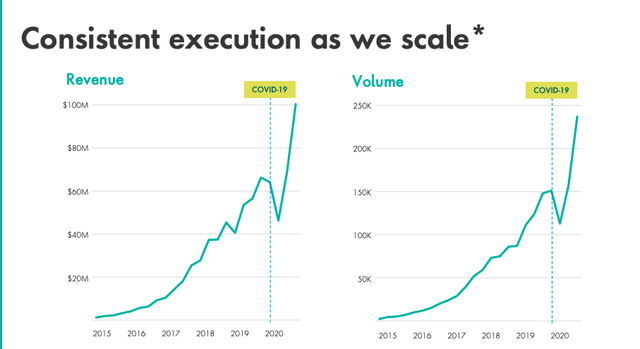 But the company is burning a lot of money, cash burn was $441.1M including acquisition financing in the fourth quarter, and the number was $74.8 million excluding the impact of acquisitions.
Management is being explicit and unapologetic about this.
From the conference call:
As our business evolves and scales, revenue has become the most relevant metric by which we measure the success of our business..

Given the stabilization of the markets and opportunities in front of us that continue to grow, including multiple M&A ideas worth assessing, we'll continue to make prudent investments in projects, programs and acquisitions, such as our One Codex transaction just last week.

In addition to acquisitions, we expect that OpEx in 2021 will continue to increase as we invest primarily in R&D and marketing.
Genetic testing is a massive market with enormous opportunities, and Invitae is betting on capturing the biggest possible share of that market via both organic growth and acquisitions.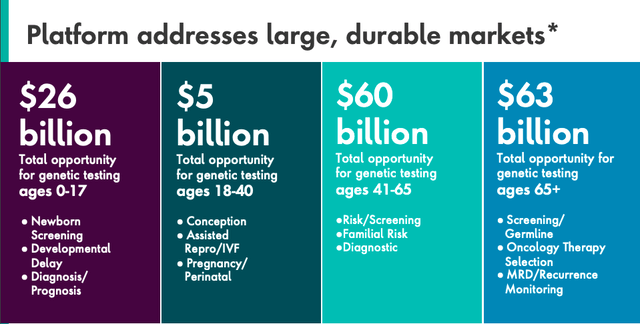 More volume means lower costs per unit and hence lower prices for customers, which generates more volume over time. The strategy is risky but, it is intentional and it is working.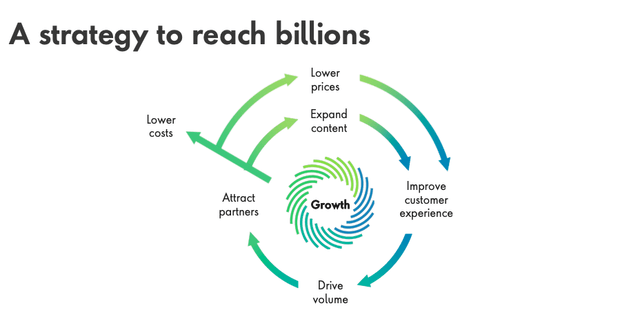 The Timing
The price chart is a bit dirty and untidy, but the long-term trend is up and the stock is consolidating sideways in the past several months. I have seen much better charts among other stocks in the portfolio, but it could be worse.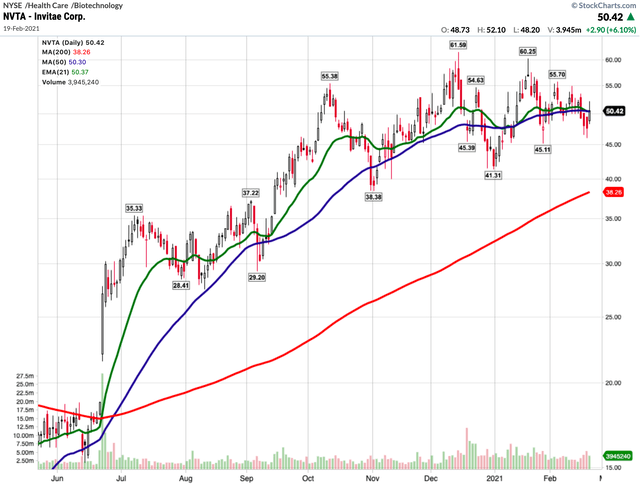 The Big Picture
Invitae will keep burning cash and issuing shares to finance its growth opportunities in the years ahead. This is obviously very risky, and Invitae is not an investment for all kinds of investors. But the upside potential is huge, the stock can easily deliver 5X returns or even much more if the thesis plays out well.
In addition to this financial risk, we need to consider that competition is going to get more intense in the near future. Invitae is sharply positioned for competition, although we can never ignore this risk in such a dynamic growth sector.
I can completely understand why many investors would stay away from NVTA, but the strategy is clear and management is executing it very well. The long-term thesis in NVTA remains intact based on the most recent numbers.
Disclosure: I am/we are long NVTA.
I wrote this article myself, and it expresses my own opinions. I am not receiving compensation for it. I have no business relationship with any company whose stock is mentioned in this article.