Pinterest (PINS), reported excellent numbers across the board, including strong user growth, revenue, and margins. Video and e-commerce are two massive opportunities for the company in the years ahead, and valuation is not out of a reasonable range at all. I have recently added more to my position and the stock remains one of my favorite names in the portfolio for new money.
What is new?
Pinterest reported $706M in revenue during the quarter, a big increase of 76.5% year over year and surpassing expectations by $58.2M. Global monthly active users – MAUs – grew 37% Y/Y to 459M during the quarter. For Q1 2021 management is expecting revenue growth to be in the low-70% range in spite of all the uncertainty generated by the pandemic and the reopening.
It is important to note that revenue growth has been accelerating in recent quarters, and guidance is still for very solid performance in Q1 2021, even if there is obviously some deceleration being expected as the economy reopens and we move beyond the much important holiday quarter.
Growth rates in international markets are particularly strong, and the company has plenty of opportunities for sustained expansion in those regions.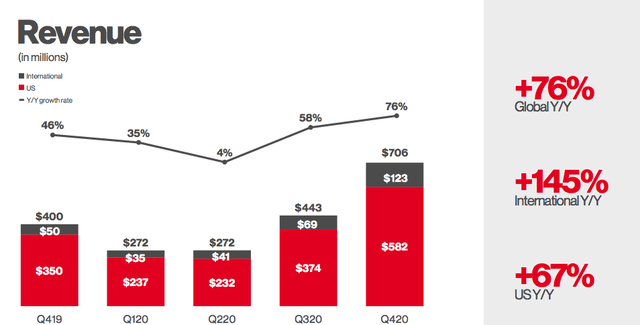 On the user front, it is worth noting that Pinterest makes $5.94 per user in the U.S. versus $0.35 in international markets. Users in the U.S. obviously have higher purchasing power, but it makes sense to expect monetization in international markets to increase as the company applies in other countries the same strategies that it is applying in the U.S. in the years ahead.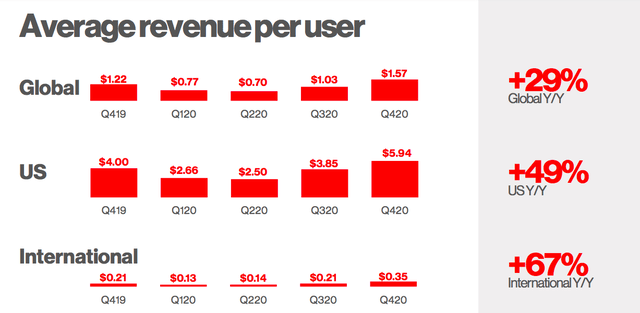 The improvements in profitability have been off the charts lately, and management is doing an excellent job of combining revenue growth and expanding profit margins. It is not easy to find companies that can deliver so well on both the top line and earnigns.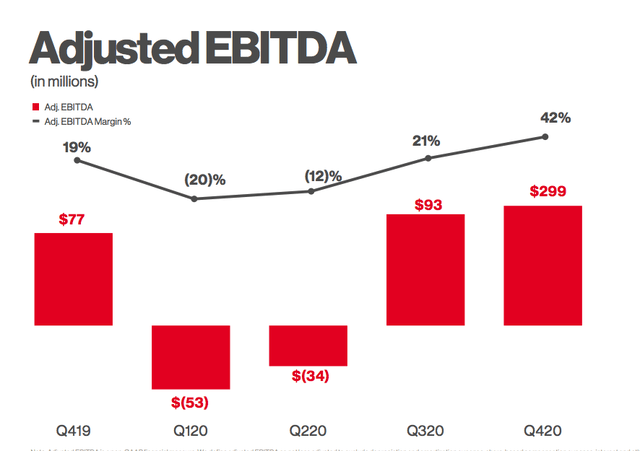 The Timing
In spite of the fact that growth stocks have been under a lot of pressure lately, Pinterest is doing much better than other names and displaying relative strength. The chart is in a healthy uptrend and not too overbought.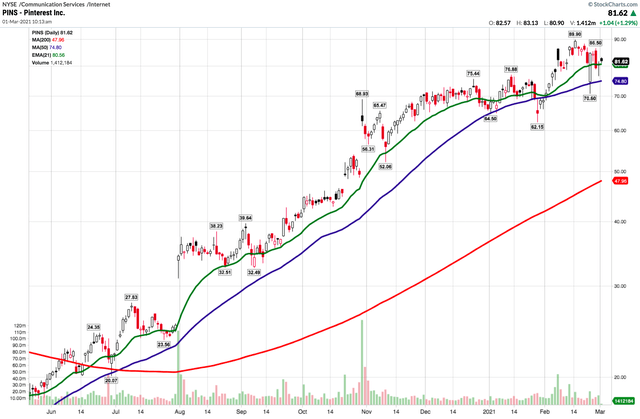 The Big Picture
Pinterest is barely giving the first steps in direct ecommerce solutions, and expansion into more video content is producing results for such a highly visual platform like Pinterest. Consumers and advertisers are moving away from more toxic platforms such as Facebook, and Pinterest is doing a great job at capitalizing on its advantages.
The stock is trading at a price to sales ratio of 20 times revenue estimates for 2021 and 15 times revenue estimates for 2022. This is not cheap by any means, but it is not unreasonable either for such a dynamic growth business that is executing brilliantly across the board.
The biggest risk factor is competitive pressure in my opinion. Pinterest competes versus powerful platforms such as Facebook, Instagram, Snapchat, Tik Tok, Twitter, and YouTube, to name a few. Many more will probably enter the space in the years ahead, so Pinterest needs to stay on top of its game to continue delivering.
All said, the risk to reward trade-off in Pinterest looks good to me over the intermediate and long term.
Disclosure: I am/we are long PINS.
I wrote this article myself, and it expresses my own opinions. I am not receiving compensation for it. I have no business relationship with any company whose stock is mentioned in this article.