Summary
We are in peak earning season for small cap stocks. Sorry for drowning your inbox right now.
But this Top 5 Pick is seriously worth buying right now.
Solid growth rates, pivoting its business model to virtual rent-to-own business, with high visibility, backed by strong free cash flows.
Notes to Old and New Members:
Firstly, my apologies for inundating your inbox right now. But this is peak earnings season, and the companies in my Marketplace are companies I'm heavily invested in, so I'm very keen to report on their progress. A more normalized cadence will resume after these next two weeks.
Secondly, I know that Rent-a-Center is a really boring business. But don't let the fact that it's boring business confuse you: this is an incredible investment opportunity.
Investment Thesis
Rent-a-Center (RCII) is pivoting its business. You can see by its very strong growth profile and visibility into 2023 that this highly profitable enterprise is seriously worthwhile investing in.
Without any heroics, the company is going to make more than $4.3 billion in revenues this year, and the stock trades for just 0.8x forward sales.
I lay out a very reasonable path for 75% to 140% returns over the coming 18 months, from this valuation including the after-hours bump.
You should consider investing here right now even if already have — I am.
Revenue Growth Rates & Visibility is Impressive
As a reminder, the Rent-a-Center thesis is that the company is a boring furniture rent-to-own retail company that is acquiring one of the largest digital payments solutions. Altogether, this will totally change everything for Rent-a-Center allowing it to outdistance itself from the competition.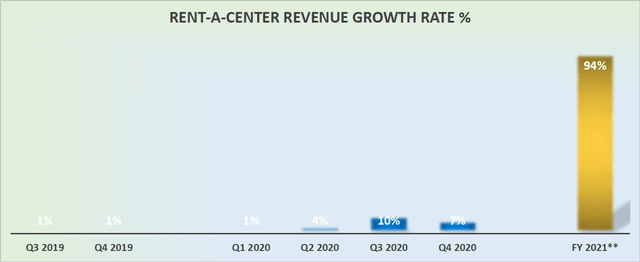 Source: author's calculations; *midpoint company guidance
The graph above speaks for itself. Anyone that even had vaguely heard of Rent-a-Center knows it as a very boring brick-and-mortar retail business with a patchy history.
But what lays ahead is insanely different.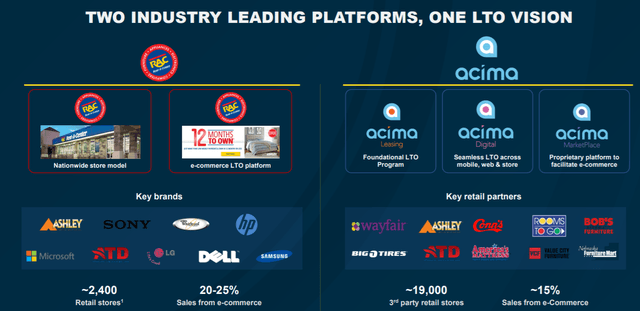 We are getting a last-mile operator with a digital payment provider. And while I know that Rent-a-Center's share price is up substantially in the past several months, nobody is pricing in this 2023 guidance: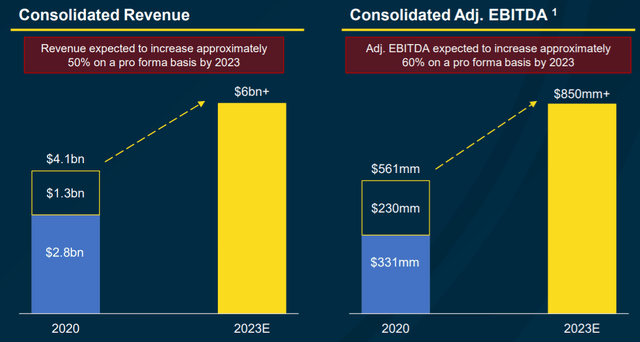 Source: Q4 2020 Investor Presentation
The company has a path towards hitting $6 billion in revenues in 2023. That means, over the next 3 years, it's going to increase its revenues by 50%.
But more importantly, we are getting to towards very interesting scale business, which means the multiple to sales, or earnings, investors are going to be willing to pay for this investment is a multiple commensurable with a billion-dollar revenue-generating company. In plain english, the valuation premium will be much higher than if it was a small, fickle, and volatile brick-and-mortar business.

Source: Q4 2020 Press Release
Above you can see how Rent-a-Center's underlying business, without the acquisition of Acima, for the year just finished.
The company is obviously having to stretch and leverage its balance sheet for Acima's acquisition, but that's absolutely fine, you can evidently see that Acima's operations are highly accretive to the underlying business.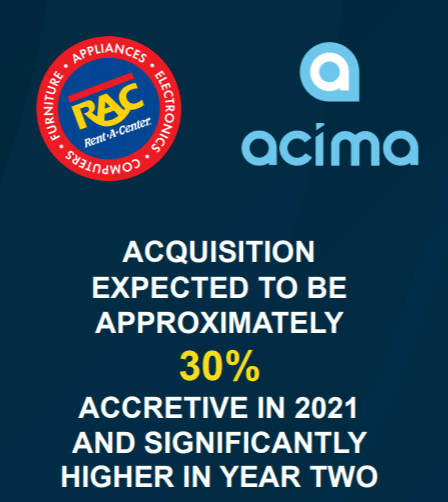 Source: Q4 2020 Investor Presentation
Again, just to illustrate the opportunity here from a different perspective, this is Rent-a-Center's guidance for 2021:

Source: Q4 2020 Press Release
And now see what the analyst following the company have as its revenue targets over the next 3 years:

Source: SA Premium Tools
You can see from any perspective you want, analysts are so far out of the ballpark, that you don't even need management to deliver anywhere near this goal for investors right now to be rewarded.
Do Profits Matter in 2021?
That's a controversial question I keep asking and a split answers is what I get back.
During 2020 companies reporting profits were getting punished as the market was favoring growth companies with no path to profits over companies that generate solid profits.
However, in the past few weeks, the market has come to re-appreciate the fact that without a realistic path towards profitability those large economies of scale carry very little value.
That revenues for the sake of revenues without a sound economically profitable business model may be slightly dubious, and certainly not worth the premiums many investors were willing to pay up for.
In the case of Rent-a-Center, not only is the company clearly changed its path towards a high growth company but just to further impress investors its now saying that it has visibility on mid teens EBITDA margins.
Valuation — This is Likely to Deliver 100% Returns Over 18 Months
On back envelope calculation, without any heroics, if you just were to hold on to these shares into this time next year, once the Rent-a-Center story starts to get out, I suspect that by this time next year investors will be willing to pay 10x EBITDA for Rent-A-Center's 2023 target of $850 million.
More simply, I suspect that investors will easily pay an $8.5 billion market cap (10x multiple to EBITDA) for Rent-a-Center's 2023 EBITDA target. This means that the stock would have to re-rate by 140% over the next twelve months.
I know what you are thinking, that this is an unrealistic target. Maybe, it is. But are things so bad if I'm wrong and we only get a 100% return here? Or even 70% return in 18 months?
The Bottom Line
I lay out a very clear path towards a 75% to 140% rate of return over the next 18 months. And what's thoroughly important is that I'm not arguing so a highly followed stock trading at nosebleed valuations to get repriced even higher.
I'm arguing for a very cheaply valued stock, off-the-beaten-path, to continue to deliver along its vision.
This is the type of investment I really enjoy. A very low downside, and reasonable upside potential. If things go wrong, I don't lose much, and if things go in any other alternative scenario, I'm reasonably rewarded for my investment.
Disclosure: I am/we are long RCII.
I wrote this article myself, and it expresses my own opinions. I am not receiving compensation for it. I have no business relationship with any company whose stock is mentioned in this article.