Sea Limited (SE) has just announced very strong metrics for the fourth quarter of 2020. I have not seen the details from the conference call yet, but the big picture looks very strong. Sea Limited remains a Top Priority position in the portfolio because the thesis is playing out well.
The Update
The company reported $1.56 billion in revenue during the quarter, a year over year increase of 100.7%. The number exceeded expectations by $50 million. Total gross profit increased 101.5% year over year.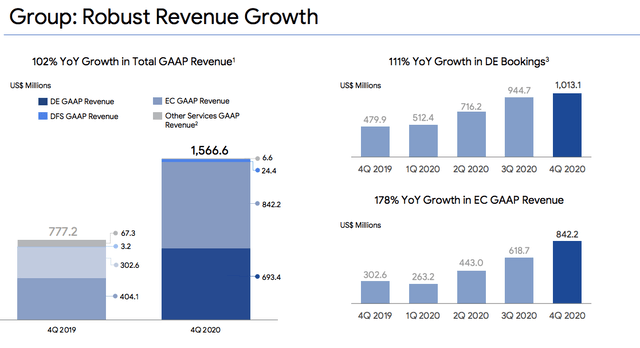 Source: Sea Limited
Revenue in gaming reached $693.4 million, growing by 71.6%. Quarterly active users increased 72.1%, reaching 610.6 million and quarterly paying users jumped 119.5%, to 73.1 million. Free Fire was the most downloaded mobile game globally for 2020, maintaining this leading position for a second consecutive year.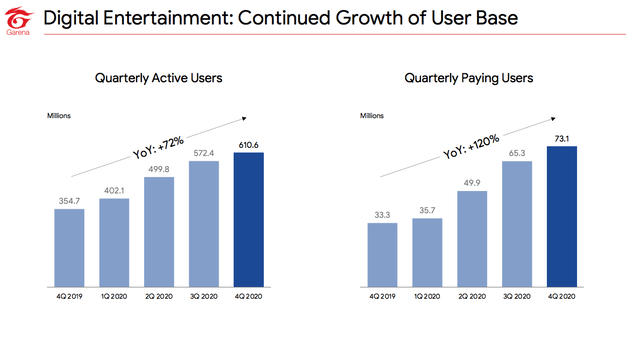 Source: Sea Limited
Ecommerce revenue reached $842.2 million, an increase of 178.3% year over year. Gross merchandise value was $11.9 billion, an increase of 112.5% year-on-year. Both in Southeast Asia and in Taiwan, Shopee ranked first in the Shopping category by average monthly active users, total time spent in-app on Android, and downloads, for the fourth quarter and for the full year of 2020, according to App Annie.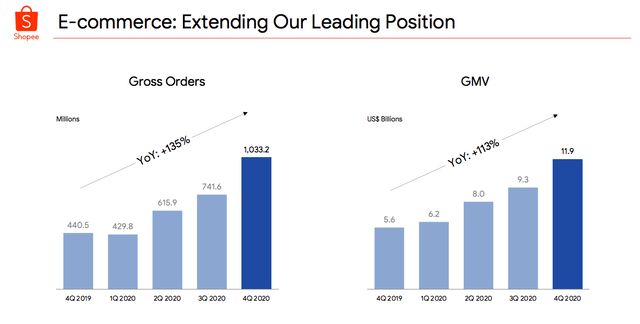 Source: Sea Limited
The company is very early in the fintech game, but it is making some inroads there too. Mobile wallet total payment volume exceeded $2.9 billion for the quarter and $7.8 billion for the full year of 2020. Quarterly paying users for mobile wallet services surpassed 23.2 million in the fourth quarter.
Guidance is also very strong, especially in ecommerce. For the full year 2021, management is expecting an increase of 38.1% in gaming revenue and a growth rate of 112.3% in ecommerce revenue at the midpoint of guidance.
This strong guidance in ecommerce is particularly encouraging because comparisons for 2021 are going to be challenging due to the huge acceleration during the pandemic. It is clearly good to see that management remains confident about growth prospects in the year ahead.
Earnings were below expectations, but that is hardly a concern because Sea Limited is in full investment mode as the company is focused on capitalizing on its long-term growth opportunities.
The Timing
Sea Limited stock is in a well-defined uptrend, it recently pulled back and it found support around $225 per share. The price action looks strong too me.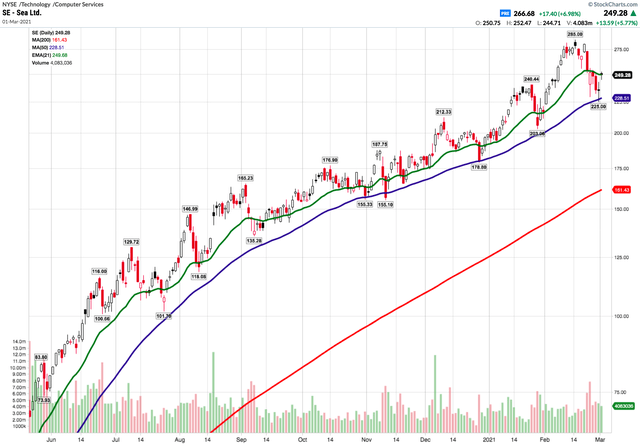 The Big Picture
The basic thesis for Sea Limited is that the company is investing the cash flows from its gaming operations to build a leadership position in ecommerce and then in fintech services in Southeast Asia. This thesis is playing out well based on the most recent numbers.
The price to sales ratio stands at 18.5 for 2021 and 14 for 2022. This is not cheap at all, but it is also not unreasonably expensive for a company that is delivering revenue growth rates above 100% and could become the top player in high growth segments in a very promising region.
Competitive pressure can be expected to increase, especially from big players such as Alibaba (BABA). That is going to generate some uncertainty around Sea Limited from time to time, but the company is doing a good job at consolidating its competitive position.
Another relevant risk factor is that gaming is a fickle business, and the company still makes most of its revenue and profits from online gaming. Management will need to keep launching successful titles in this segment, and the massive success of Free Fire is not easy to replicate.
Nevertheless, when considering the massive upside potential in ecommerce and fintech in Southeast Asia, as well as the fact that the company is executing strongly, the upside potential in Sea Limited could more than compensate for the risks.
Disclosure: I am/we are long SE.
I wrote this article myself, and it expresses my own opinions. I am not receiving compensation for it. I have no business relationship with any company whose stock is mentioned in this article.