Square (SQ) reported solid metrics for the fourth quarter of 2020. The numbers were not as overwhelming as in prior quarters, but they still show a business that is performing well.
The big story in the report is that SQ spent $170 million in Bitcoin during the period. The company had previously announced $50 million in Bitcoin investments, so the total dollar amount currently represents nearly 5% of the company's cash reserves.
I am bullish on Bitcoin, but I am not sure that corporate executives should be making those kinds of decisions with the company's balance sheet. In any case, Bitcoin is a great growth engine for SQ, and investment in cryptocurrencies has an important marketing value.
The Update
Total net revenue was $3.16 billion in the fourth quarter of 2020, up 141% year over year. Excluding bitcoin, total net revenue in the fourth quarter was $1.40 billion, up 23% year over year, and total net revenue for the full year of 2020 was $4.93 billion, up 17% year over year.
SQ reports Bitcoin trading as revenue, and the company does not make any direct money from that. This is something that should be changed in accounting from my perspective. But the point is that the company is doing very well with or without Bitcoin. Importantly, Bitcoin is a crucial customer acquisition tool for SQ.
Gross profit grew 52% year over year to $804 million. Gross profit from Cash App increased 162% and the Seller ecosystem delivered a 13% increase in gross profit during the quarter. Again, even leaving Bitcoin aside, profits are clearly moving in the right direction.
Cash App reached more than 36 million monthly transacting active customers, up more than 50% year over year. Peer-to-peer payments grew 50% during the quarter. This is very important for SQ because it proves that customers attract each other to a leading digital wallet such as Cash App.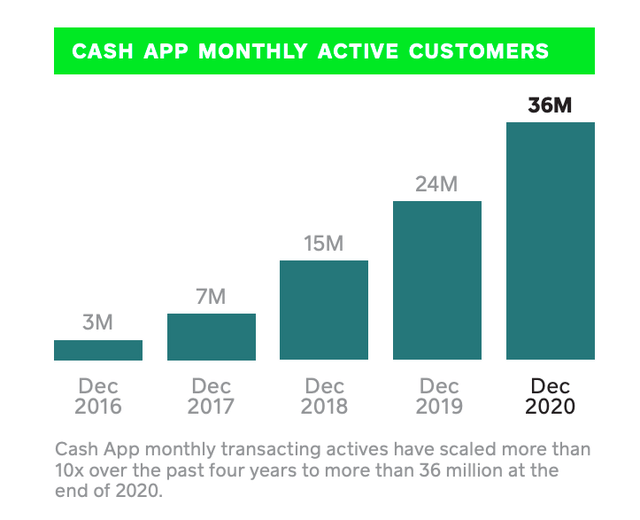 It is important to consider that Bitcoin attracts lots of users to the platform, especially young users who have a large lifetime value. The company then monetizes those users via multiple venues over the long term, so SQ actually makes a lot of money from Bitcoin, even if not directly.
It is reasonable to say that recent investments in Bitcoin are not only done because management believes that Bitcoin is a good investment, but also to gain some free publicity and generate even more traction among Bitcoin enthusiasts.
Seller ecosystem generated $987 million of revenue and $427 million of gross profit, up 5% and 13% year over year, respectively. The pandemic is obviously a problem for the company in this segment, but management is doing a solid job of expanding omnichannel capabilities and building new products and services to add more value over time.
The Timing
The chart action is not too bad at all Growth stocks had a horrible open on Tuesday, and then they recovered partially during the day, SQ performed in line with the broad growth sector. Over the intermediate and long term, the trend is up as long as the stock is above $230-$240.
The Big Picture
Square is a strong business, the most recent numbers were good but not exceptional, though. Digital wallets and crypto are among the most important fintech innovations in our time. The stock price was showing some correlation with Bitcoin in recent months, and that correlation will probably be exacerbated after the new purchase.
The price to sales ratio is 8.63 for 2021, meaning that the stock is priced for growth but not necessarily overvalued.
All in all, my conviction on SQ has not changed after the recent earnings report.
Disclosure: I am/we are long SQ.
I wrote this article myself, and it expresses my own opinions. I am not receiving compensation for it. I have no business relationship with any company whose stock is mentioned in this article.