A Reminder On The Risks
The returns that we saw in 2020 are completely exceptional, and it is unrealistic to expect these kinds of returns going forward.
We are going to have big shakeouts in the stocks in the portfolio. This is perfectly normal and even to be expected.
In fact, volatility is the price that you have to pay if you want to achieve superior returns by investing in high-octane stocks.
I know for a fact that we are going to have bad months and even bad years in The Nomad Portfolio.
Bad years happen to everyone in the long term, and they are going to happen to us too, those are the rules of the game.
I cannot tell you what you should do because I don't know your risk tolerance level, timeframe, and other important factors.
Even if you tell me, I am not allowed to provide financial advice.
I am happy to tell you what I think about a stock or the market in general, and I can also tell you what I do with my own money.
However, you have to make your own decisions based on your own needs and objectives.
In simple terms, I provide research and ideas, but I never provide financial advice.
This article about understanding volatility and managing effectively is required reading for subscribers in The Nomad Portfolio.
Nomad Portfolio
Market conditions have been favorable to growth stocks over the past 5 weeks, and this is providing a tailwind for the portfolio in terms of performance.
Corrections and consolidations are to be expected at these levels, especially among the big and liquid names that have delivered large gains in recent weeks. The smaller and riskier stocks, on the other hand, are still materially down from their February highs, so it will be interesting to see if growth investors start focusing more on the smaller names now that many big stocks are close to their highs once again.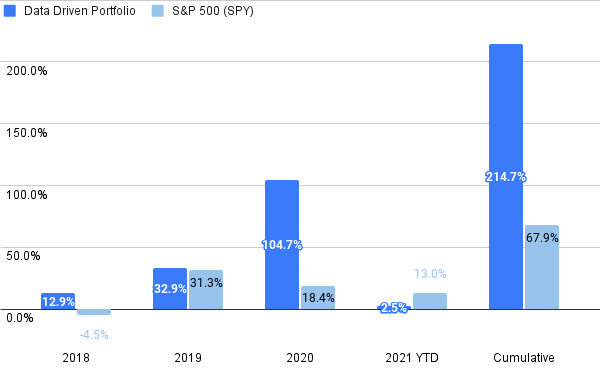 I made some changes to the spreadsheet in order to reflect that some of the top positions in the portfolio are now rather overbought in the short term.
| | | | | | | |
| --- | --- | --- | --- | --- | --- | --- |
| Exposure | Name | Ticker | Ranking | Category | Conviction | Price Trend |
| 6.2% | Sea Limited | SE | Best Buy Now | Established Leader | Very High | Up |
| 4.9% | Square | SQ | Buy | Established Leader | High | Neutral |
| 4.3% | Applied Materials | AMAT | Best Buy Now | Established Leader | Very High | Up |
| 3.4% | MercadoLibre | MELI | Buy | Established Leader | Very High | Neutral |
| 2.8% | PayPal | PYPL | Buy | Established Leader | High | Up |
| 2.6% | Nvidia | NVDA | Buy | Established Leader | Very High | Up |
| 2.4% | Shopify | SHOP | Buy | Established Leader | Very High | Up |
| 2.0% | Lam Research | LRCX | Buy | Established Leader | High | Up |
| 1.8% | Teladoc Health | TDOC | Buy | Established Leader | Medium | Neutral |
| 4.9% | Pinterest | PINS | Best Buy Now | Emerging Growth | Very High | Up |
| 5.1% | Roku | ROKU | Buy | Emerging Growth | Very High | Up |
| 3.8% | Farfetch | FTCH | Best Buy Now | Emerging Growth | Medium | Neutral |
| 3.9% | Etsy | ETSY | Buy | Emerging Growth | High | Down |
| 3.0% | Unity Software | U | Buy | Emerging Growth | High | Neutral |
| 2.7% | CrowdStrike | CRWD | Buy | Emerging Growth | High | Up |
| 2.5% | Palantir | PLTR | Best Buy Now | Emerging Growth | High | Up |
| 2.5% | Twilio | TWLO | Buy | Emerging Growth | Very High | Up |
| 2.4% | Airbnb | ABNB | Best Buy Now | Emerging Growth | High | Neutral |
| 2.3% | Fiverr | FVRR | Buy | Emerging Growth | Medium | Neutral |
| 4.1% | Fastly | FSLY | Buy | Explosive Moonshots | Medium | Neutral |
| 2.7% | CuriosityStream | CURI | Buy | Explosive Moonshots | Beginner | Neutral |
| 2.1% | Jumia | JMIA | Best Buy Now | Explosive Moonshots | Beginner | Neutral |
| 2.1% | Skillz | SKLZ | Buy | Explosive Moonshots | Beginner | Up |
| 1.7% | Health Assurance | HAAC | Buy | Explosive Moonshots | Beginner | Neutral |
| 1.9% | Ondas Holdings | ONDS | Buy | Explosive Moonshots | Beginner | Neutral |
| 1.7% | UiPath | PATH | Buy | Explosive Moonshots | Beginner | Neutral |
| 1.6% | Upstart | UPST | Best Buy Now | Explosive Moonshots | Beginner | Neutral |
| 2.1% | Semiconductor ETF | SMH | Best Buy Now | Intermediate Term | Tactical | Up |
| 3.0% | China Internet | KWEB | Best Buy Now | Intermediate Term | Tactical | Down |
I moved Shopify (SHOP) and Roku (ROKU) out of Best Buys Now to just Buy, simply because they are extended in the short term. Those positions were replaced by Farfetch (FTCH) and China Internet (KWEB), which are still quite cheap at these prices. This is only based on timing, not quality, SHOP and ROKU are far superior to FTCH and KWEB in terms of long-term fundamental quality.
Every week we highlight a few stocks in the portfolio offering good entry prices. This week we are covering Farfetch (FTCH), Etsy (ETSY), Palantir (PLTR), and MercadoLibre (MELI).
Farfetch has been under a lot of pressure in recent months. Everything related to China is considered too risky, and Farfetch was also one of the stocks that were sold off due to the Archegos blowup. However, the company delivered very good numbers and the stock is very reasonably priced.
If Farfetch can move away from $50 with conviction, this would be a bullish development in terms of price action for the online luxury retailer.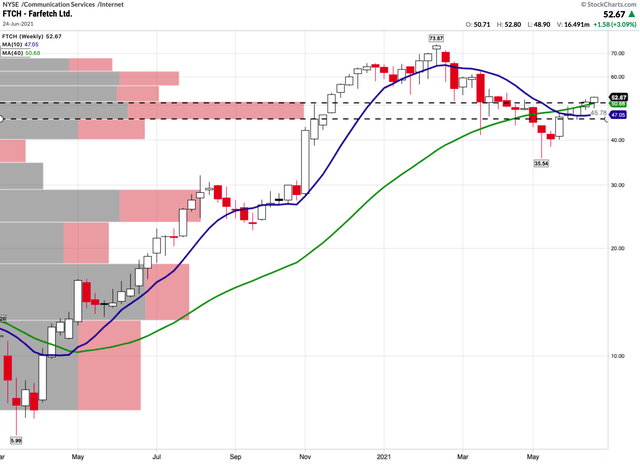 Etsy is another stock that has pulled back substantially from the highs and has not participated too much in the recent growth rally. Etsy has consolidated well above $160 per share, and now it looks like it wants to recover if market conditions help. Valuation is still more than reasonable if the company can continue executing well.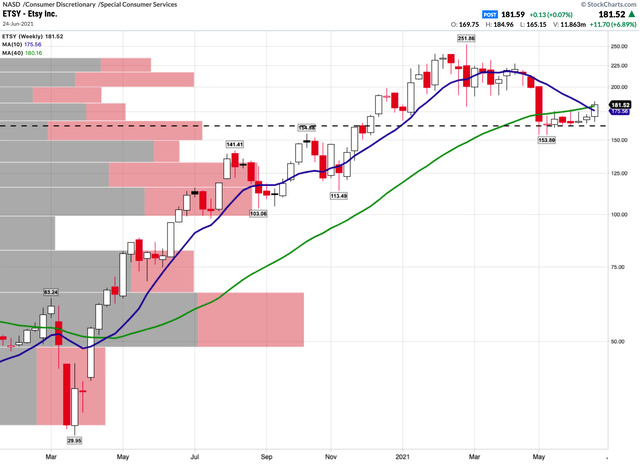 The area between $20 and $25 is remarkably important for Palantir, and it is good to see the stock finding support at that level after consolidating sideways for several months. Palantir is a fairly unique company with a very particular business model, but the numbers last quarter were very strong and the company keeps announcing new contracts on a regular basis.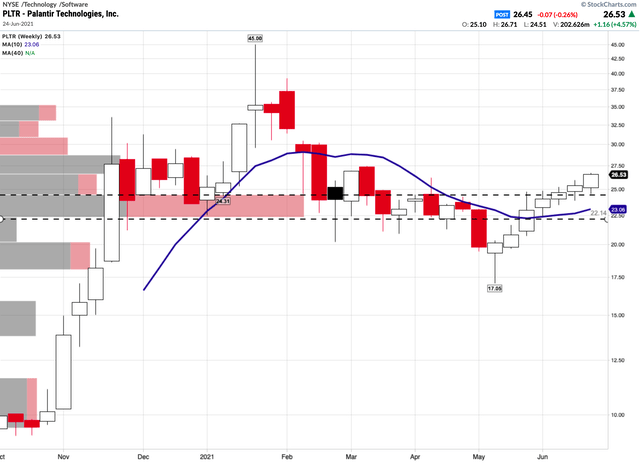 MercadoLibre (MELI) is making some huge inroads into fintech with MercadoPago. In some cities in Latin America, even street sellers are taking MercadoPago. Sometimes they even draw the logo by hand.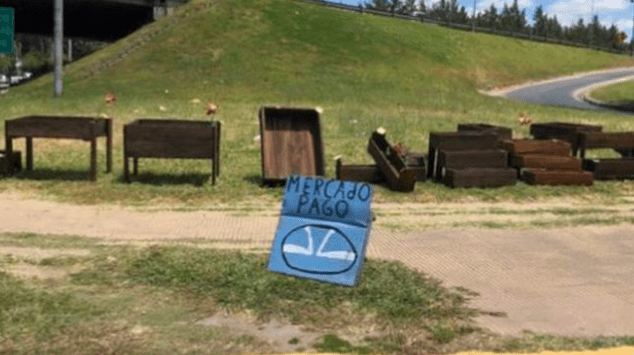 There is a lot of foreign currency exposure in the business, and expenses will probably keep increasing due to aggressive investments for growth. But MercadoLibre is executing at a high level, and the chart looks good as long as the stock is above $1200.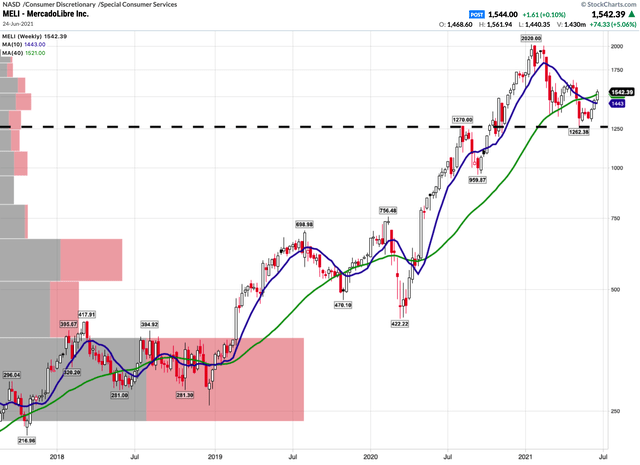 Several stocks in the portfolio, such as Nvidia (NVDA), CrowdStrike (CRWD), and Roku (ROKU) are a bit overbought in the short term. Being overbought basically means that the stock is up strongly in a short period of time, which increases the probabilities – always probabilities, never certainties – of a correction or at least a period of sideways consolidation.
This depends on the market environment to a good degree. If we enter an aggressively bullish phase for growth stocks, these names can continue running without pulling back too much. More often than not, however, pullbacks and consolidations are normal after big moves.
Personally, I have no plans to trim these positions for the time being. These are companies that I like from a fundamental perspective and I have both a long-term horizon and high tolerance to volatility. Depending on your own timeframe and needs, it is not a bad time to raise some cash, though, especially in the stocks that are up the most recently.
One of the biggest advantages of trimming on the way up is that it makes it easier to tolerate the volatility on the way down knowing that you already secured some profits and you reduced the size of the position at higher levels. Alternatively, if the stock keeps running higher non-stop, you are still participating in the gains with the shares that you did not sell.
The Market Environment
The market rotation has remained quite intense in recent days, for the most part, however, the trend is favorable to growth stocks. The Nasdaq index is currently at highs and trying to break out above 14K.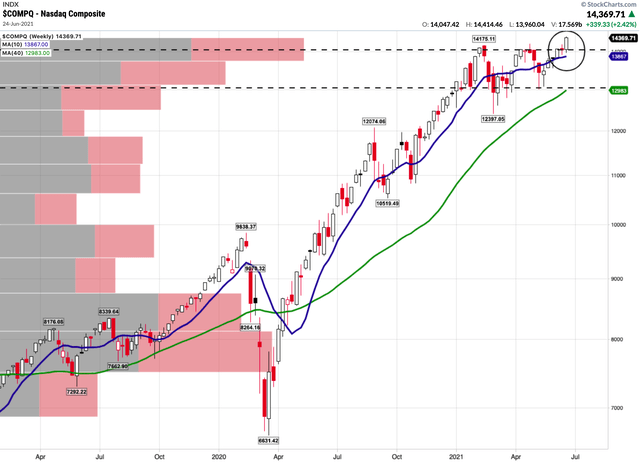 Hypergrowth stocks, as reflected in the ARK Innovation ETF (ARKK), have made substantial progress in recent days. These kinds of stocks still have a lot of work to do in order to recover the uptrend in the $130 zone, but it is important to see this ETF staying above $110.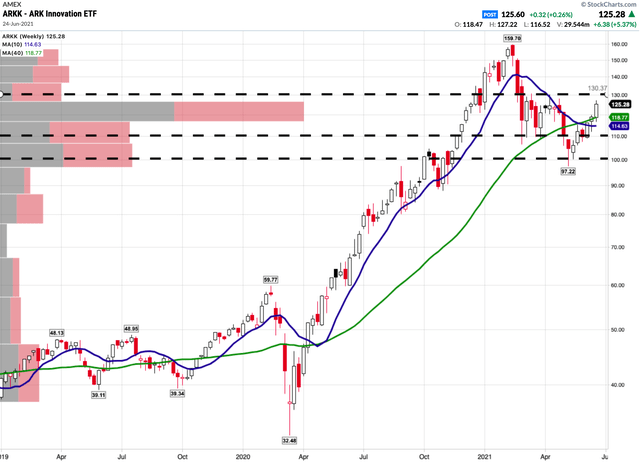 Growth stocks have delivered strong runs from their recent lows, and some names are clearly extended in the short term, so shakeouts, corrections, and consolidations should be no surprise. That being said, I don't see the conditions for a prolonged bear market starting right now, with the economy improving and the Fed being supportive.
The right way to approach market uncertainty is not to jump completely in and out of the market because a correction could come. This frenetic approach can do more harm than good to your returns. It is much better to decide how much cash and diversification you want to have, and also consider trimming on the way up and perhaps placing stops if you want to reduce your downside risk.
Remember, the correction can always come from higher levels in the future. Besides, even if you nail the timing of the correction, it is not easy to buy again at lower levels.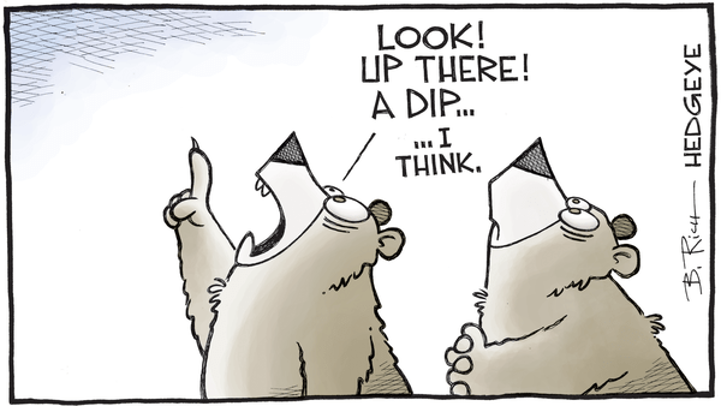 They don't ring a bell at the top and they don't ring a bell at the bottom. It is always a matter of probabilities as opposed to certainties, and selling because you are trying to predict a correction can be hazardous to your wealth.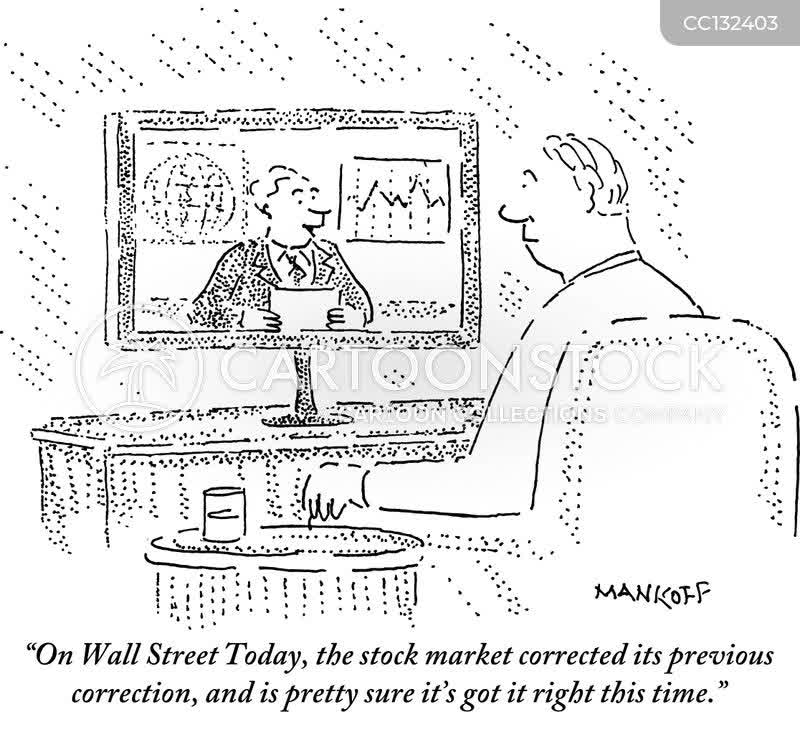 In the words of Peter Lynch
"Far more money has been lost by investors preparing for corrections or trying to anticipate corrections than has been lost in the corrections themselves."
A better approach is to think in terms of probabilities and manage cash levels accordingly. When growth stocks were at all-time highs in February I was holding 30% of the portfolio in cash. As markets declined my cash levels went down to 9%, and now they are back to 16% after the rebound.
Investors who own a more diversified portfolio of bonds and stocks in different sectors obviously don't need to have so much cash. Depending on your own needs and risk tolerance levels, you can manage your portfolio in a completely different way to that of the Data Driven Portfolio.
Nevertheless, it is always better to think in terms of probabilities and risk exposure as opposed to going all in and out of the market based on predictions and speculation.
It is interesting to note that the sentiment indicators are not at extreme levels, even with some big indexes at all-time highs. The NAAIM exposure number actually declined this week.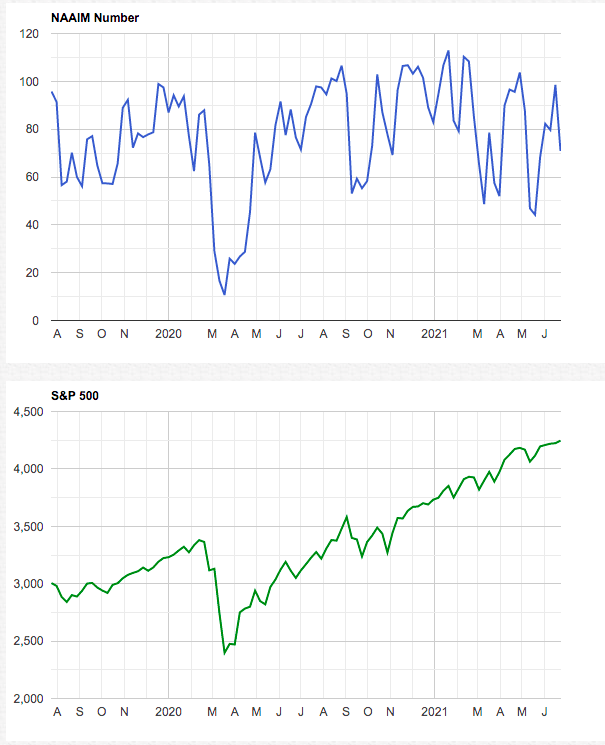 The CNN Fear & Greed Index is still fairly low, at 39.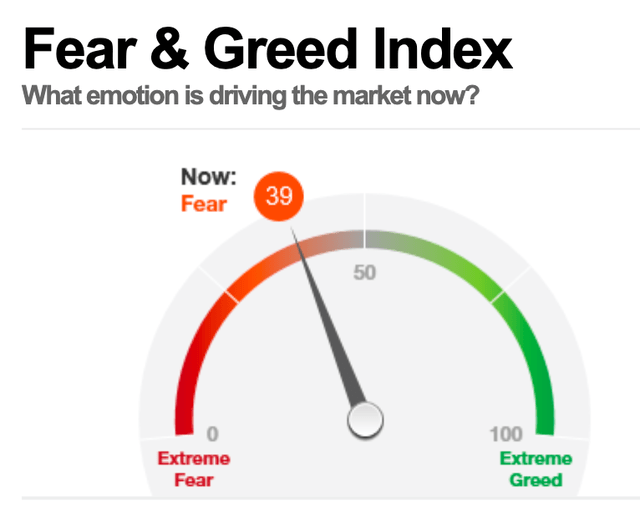 With prices at these levels, I am not going to say that there is too much pessimism in the market. But the sentiment indicators – which can admittedly change very fast – are still at fairly moderate levels for the most part.
Time And Perspective
Michael Batnick published a deeply touching article about the death of his mother and how this changed his perspective on life.
A few paragraphs from the article
I'm sad that my mother isn't here, but I'm a better person for it. I would undo this in a second if I could, but losing her gave me a perspective on life that would have been impossible otherwise.

Health is the only thing that matters. We all know this. But some people know it more than others. Losing my mother hurt like hell, but I'm grateful for what came of it. It taught me not to take anything in life for granted, especially life itself. Years aren't promised, so I try to enjoy every day.

I will keep my mother's memory alive by giving my boys everything she gave to me.
Some of the deepest and most important lessons in life come from experience. You need to actually go through the experience in all its dimension to learn its true meaning. Words and books can be powerful, but not as powerful as personal experience and feelings.
How you spend your time, and with whom, makes a big difference in your life. But attention can be even more crucial than time. If you are spending time with your family, but you are constantly checking on your phone and thinking about something else, the quality of the experience is significantly deteriorated.
It is not easy to stay focused on the most important things because noise and interruptions usually get in the way. Human nature is complicated, we take things for granted when we have them, and we value them much more after we lose them.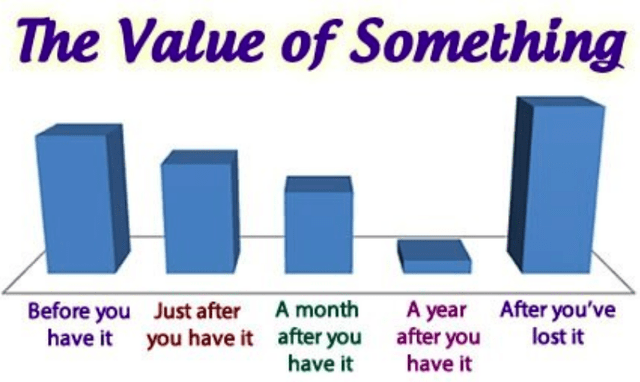 Source: Inside Big Data
There is a tool from Stoic philosophy that I learned from Professor William Irvine, and it can be very effective if you want to be more appreciative of the good things in life. Just imagine that time has passed and you are looking at the present from a distant future.
For example, if you have young children, imagine that there are now grown adults, and then you get a chance to travel back in time to play with them as young children again for a day. This can be a great psychological tool to keep you focused on enjoying the present time.
I once explained this idea to a friend of mine, and he sent me this postcard from Postsecret, which explains a similar idea.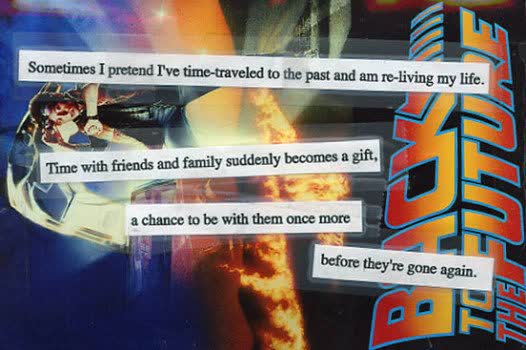 Source: Postsecret
Perspective For Investors
The same is true about work, it is better to give work your full attention while you are doing it because this allows you to do more work and get better results in less time. One hour of fully focused work can achieve more output and better quality than 3 hours of work with dispersed attention.
The Pomodoro Technique works very well in this area, it basically means that you work on a task for bursts of 25 minutes or so completely uninterrupted. This is an excellent approach to remain focused on work while you are supposed to be working, allowing you to deliver better results and also to have more free time to enjoy other things in life when you are not working.
Going back to investing, it can be hard for many investors to maintain a long-term focus while facing volatility in the markets. If we are going to stick with a strategy for the long term, it has to be a strategy that allows us to enjoy life in the process.
Sticking with a strategy that causes you a lot of pain is extremely hard to do. Besides, even if you manage to effectively stick with the strategy, there is no need to suffer intensively in order to obtain good returns in the market. We can do better than that, we can have an investing strategy that produces attractive returns and also allows us to live a good life in the process.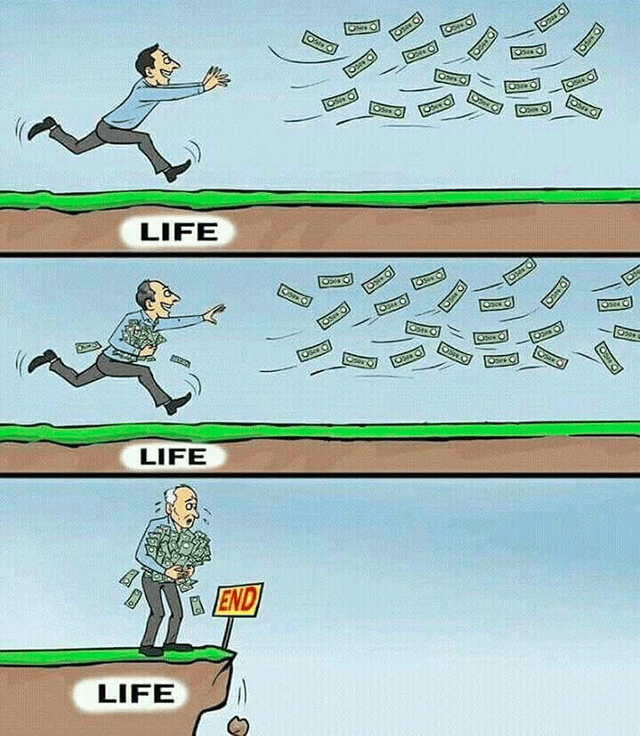 Some day we are all going to die, except perhaps for Jeniffer Aniston, who seems to be getting younger with each passing year. I love markets and investing, but when my time comes to die, I don't think I will be saying "I wish I had spent more time looking at prices on a screen with anxiety".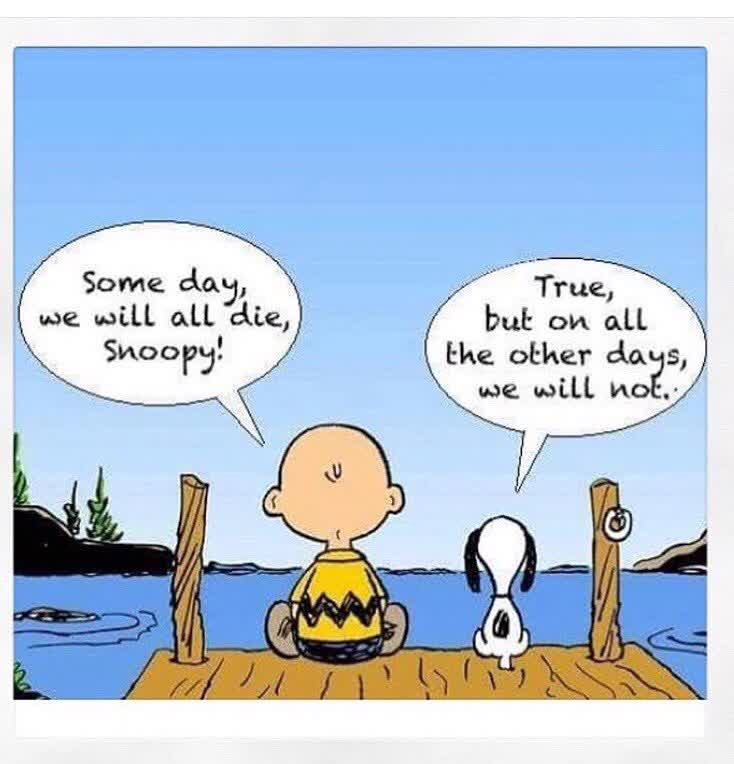 Making Decisions
You can make very good returns in the market with either a long-term approach or by cutting your losses quickly. Warren Buffett is one famous example among long-term investors and Paul Tudor Jones among those who use tight stops to manage risk. Depending on your personality and needs, you may choose one approach or the other, or you may combine both approaches.
We can't expect perfection, though. Different strategies have their strengths and weaknesses, and they perform better or worse in different market environments. In order to do well in the markets, we need to have realistic expectations and accept both the good and bad that come with every strategy.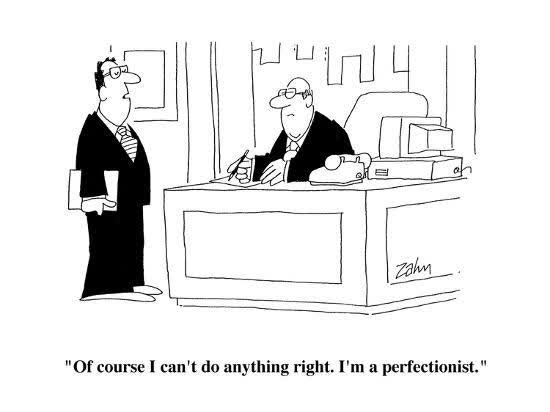 Long-term investing can work wonderfully well over the years, but if you stick with this approach you will need to tolerate serious drawdowns, and many times you will also see your stocks underperform while other stocks are doing well. This will necessarily happen, even if you buy the best possible stocks for the long term.
In the book "100 Baggers", author Christopher Mayer looks at over 360 stocks that delivered 100x returns in the long term. All of those stocks declined more than 50% at one point in time, and most of them declined more than 70%. And these are the best stocks in the history of the stock market.
The main challenge with this approach is managing impatience and going through the drawdowns. I sometimes wish that I could have a time machine so that I could travel to the year 2030 and see how the stocks in the portfolio have evolved in a decade. The probabilities are that most of these companies will be much bigger and their stock prices will be much higher.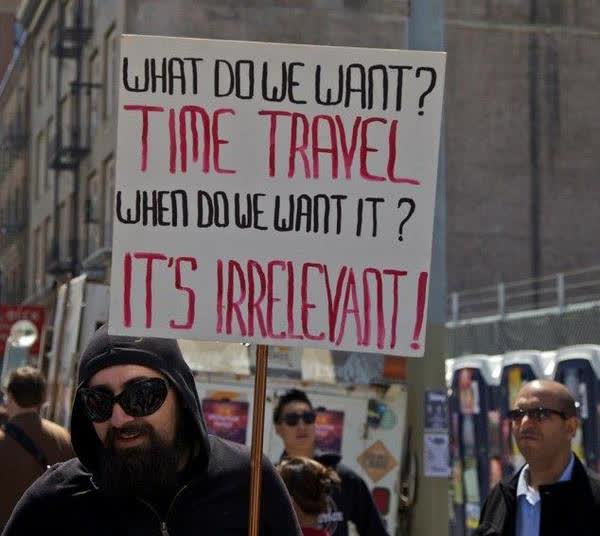 But then I remember that the only reason why long-term investing works so well is that most people don't have enough patience and perspective to do it, especially in times of rapid-fire information and instant gratification. Long-term investing works so well because it is hard to do.
Alternatively, you can decide to have a short-term-oriented approach. For example, selling positions when they decline by 10%-15%. Perhaps 20% if you are dealing with small positions in high volatility stocks. Some of the most successful traders in the world cut their losses at 5% maximum, so keeping your stocks on a tight leash is no impediment to doing well in the market as long as you are quick enough to buy again when the trend is favorable.
This strategy is very effective at protecting your capital from big losses and also at protecting your mental capital by taking you away from losing positions. The old market joke about the falling knife comes in handy once again:
A technical analyst and a fundamental analyst are having dinner, when a knife falls off the table and lands right on the fundamental analyst's foot.

The fundamental analyst yells at the technical analyst: Why didn't you catch the knife???

Technical analyst: We never catch a falling knife! Why didn't you move your foot?

Fundamental analyst: I didn't think it could go that low..
Now, if you are going to use stops, then you need to accept that you are going to be shaken out too soon on many occasions. You buy at $100 with a stop at $90. The stock goes down below $90 so you sell, and then it goes back to $120-$130. This is normal and it happens very often.
In fact, many short-term traders make money only on 50% of their trades. The point is that when they win they win big and when they lose they lose small.
Investing is not a one-size-fits-all discipline, there are lots of ways to do well in the market. It is important to stick with a strategy that goes well for your needs and also to have realistic expectations.
Just to nail down the main point:
Neither long-term investors nor short-term traders should spend their time looking at the screen with anxiety. This is not a good way to go through life, anyways.
If you are a short-term trader, when the price is below your stop you sell, no questions asked. You may buy again in the future, but your risk management process is non-negotiable. This is not about being right or being wrong, and it is certainly not about guessing what the stock price will do in the future. It is just about following a risk management process.
If you are a long-term investor, then you focus on the long term, and you keep the stock if the fundamental thesis remains valid. You bought a stock with a time horizon of 5 years, if you have a 5-year old child, your child will be 10 years old by the time you think about selling.
A lot of things are going to happen in that period, and the stock will have big moves in both directions. Whatever happens today is irrelevant in the big scheme of things, and you should focus on the fundamentals as opposed to the stock price.
There is no need to suffer when a stock price moves against you. You can either control risk with stops or remain focused on the long term. But you have to understand that volatility is normal, and stressing too much about market fluctuations can hurt both your quality of life and your return.
Disclosure: I am/we are long SE SQ AMAT MELI PYPL NVDA SHOP LRCX TDOC PINS ROKU FTCH ETSY U CRWD PLTR AXON TWLO ABNB FVRR FSLY CURI NVTA JMIA SKLZ HAAC ONDS PATH UPST SMH KWEB.
I wrote this article myself, and it expresses my own opinions. I am not receiving compensation for it. I have no business relationship with any company whose stock is mentioned in this article.